The need for more Decentralized-Exchanges (DEX) has never been more apparent as there are more DeFi protocols created. These projects tend to have a massive amount of liquidity and garner a lot of interest – which makes a Centralized-Exchange (CEX) a prime target. The more money that flows into this space, the more dedicated these bad-actors will become in attempting to separate investors from their digital assets.
CEXs like Binance, Coinbase, and KuCoin make it very convenient for newer investors in the space. This is due to several factors such as being able to contact customer support if they are locked out of their account, having all tokens stored in a single wallet, among other perceived advantages.
The fact that an exchange's wallet is capable of holding every single asset offered on the platform in a single location, combined with having years of experience in the industry, is what reassures new users who have never used any kind of exchange in the past. CEXs also have the added benefit of multiple on-ramps that allow the use of credit or debit cards to buy cryptos with fiat currencies.
The biggest downsides of a CEX are that they are prime targets for bad-actors due to the massive amounts of liquidity that they possess. A single point-of-failure is all it takes for an entire exchange to be hampered with hacks, withdrawal freezes, and relinquishing your privacy by providing a third-party with all your data when you submit your drivers' license, social security number, and a selfie.
If a CEXs database is ever compromised, so is your privacy, and even worse, it can also be used to for fraudulent purchases which can decimate your credit score. The high fees charged by many CEXs is another factor to consider.
Reasons to Choose a DEX Over a CEX
The DEXs main advantages over a CEX are that you are in complete control of your funds, you always keep your privacy (since there is no authority asking, collecting, and storing your ID and personal info), and having your own private wallet. These factors alone help to make you much less of a target to get hacked IF you regularly exercise the proper safety precautions.
When using a DEX like Uniswap, it requires you to own or create your private wallet from metamask.io. Although this process can seem daunting to the new user, learning how to properly care for your digital assets is the only option to guarantee your financial sovereignty.
This prevents its users from losing everything in the event that a CEX gets compromised, for whatever reason. The fees on DEXs are the lowest in the industry IF the network isn't too congested.
With DEXs, you have the power to do what you want, when you want. There is never any downtime or periods of maintenance to be aware of and plan around in the event you are looking to sell for a profit or purchasing to accumulate.
The saying "not your keys, not your coins" should never be forgotten.
A subset of users could be better off using a CEX over a DEX, depending on a few factors. Determining where one situation is highly-recommended over the other will shed some insight on the pros and cons of both private and exchange wallets.
"Hot-wallets" are crypto apps that are always connected to the internet. Any software or hardware connected to the internet will have multiple points-of-failures or vulnerabilities – such as leaked documents and data from a CEX. Bad-actors are known to sell this private data on the black market for profits.
There are a few reasons why a CEX's wallet allows peace of mind to the inexperienced user, the main one being that a lifeline is always available should one lose their CEX account's PW or log-in details.
They can always contact support to always get access to their accounts should an issue arise.
If one doesn't trust themselves to be responsible with their own private keys, one might start to assume that there is no real risk in storing their assets on a CEX due to the insurance funds of these exchanges. These wallets are also very convenient. Customers of a CEX (such as Binance or Coinbase) have the luxury of allowing for dozens of different coins to be stored in one centralized location resulting in a false sense of security that many fall prey to – truly a recipe for disaster.
If you must go through a CEX to buy a certain token that is unavailable on a DEX, remember that the longer you leave those assets in their possession, the bigger the risks of you losing them. Since you are NOT in control of the assets, if the exchange gets hacked, you could lose everything. Log in, buy the asset, transfer it off the exchange, and log out.
ALL hot-wallets on any CEX can be compromised, for many reasons.
Private over Exchange Wallets
CEXs will always need to be run online via hot-wallets to allow for the transferral of assets at faster speeds to serve all the customers with adequate wait times. As such, there will inherently be significantly more risk in using these wallets for long-term storage, or for any sizable amount of cryptocurrencies.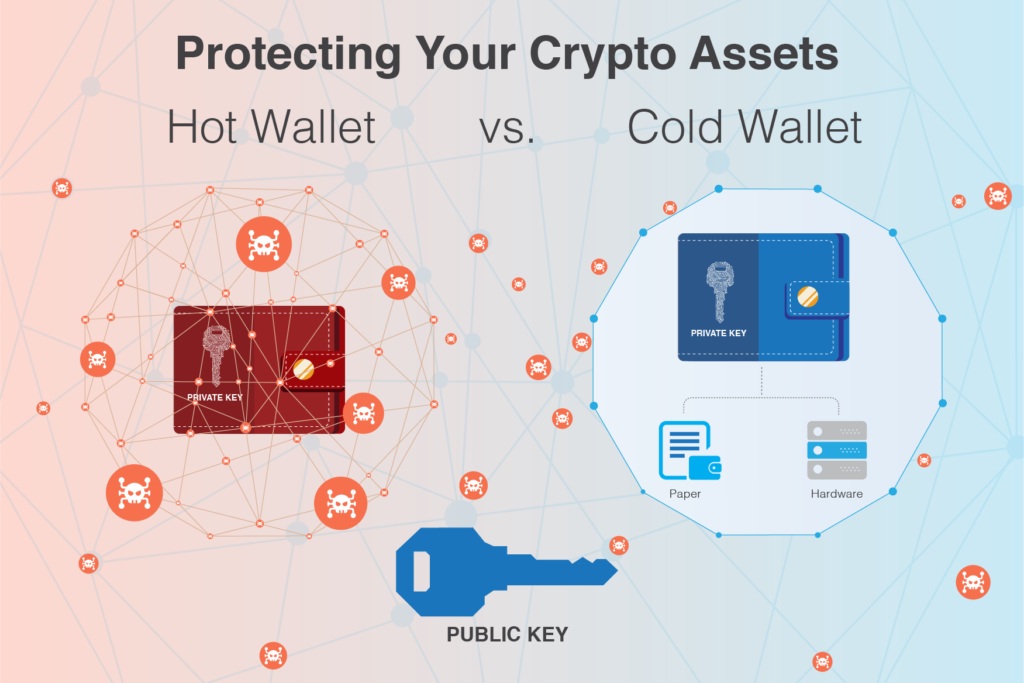 Wallets that are designated for customers on any CEX, are by nature, unsafe. Due to the need for significant liquidity, this requires the CEX to store enough assets on-hand to allow for the most efficient trading experience with the quickest trading/transfers possible.
Some exchanges do go insolvent, unable to stay in business. This is another advantage of keeping your tokens OFF of exchanges.
There are several different types of wallets available to users, each having their own pros and cons. It is up to the user to determine which wallet would be best for a certain individual. Regardless of what you decide is the best fit for you, having your own keys and taking possession of your coins is the most pro-active decision one can make to remove themselves from harm's way.
YOU will be the only party responsible for safe-keeping the seed words/private keys. The methods of storing your credentials are just as important as your methods of storing your assets.
THERE IS NO ONE YOU CAN CONTACT TO RETRIEVE YOUR FUNDS. IF THEY ARE LOST, SO ARE YOUR ASSETS. DO NOT STORE YOUR CREDENTIALS ONLINE. KEEP THEM OFFLINE AT ALL TIMES.
The previous statement is the key factor. If one cannot be responsible, they are better off paying a premium for custodial services, depending on the total value of assets they are looking to invest. By using a means of cold-storage, investors aim to prevent hackers from being able to access their holdings via traditional means that can cause substantial losses.
Crypto hot-wallets, such as the Exodus wallet can store both Bitcoin and a multitude of other altcoins. While hot-wallets are not as secure as cold-wallets, they do serve a purpose. Hot-wallets are more convenient for beginners but it does come with more risk.
Be sure to make MULTIPLE copies and store them in SAFE locations, Do NOT disclose the locations or the kets to ANYONE.
Alternatives to a Hot-Wallets
Cold-storage is a superior way of keeping your assets safe – offline. Although private wallets can still be compromised by hackers due to user-negligence, phishing attempts, and other nefarious means – it is still a far safer alternative over being reliant on a CEX to keep your funds safe – IF the user can manage their private keys and seed words responsibly.
Personal mobile Bitcoin wallets, such as the Samourai wallet, can only store Bitcoin via cold-storage while other wallets can store both Bitcoin and altcoins. Samourai offers unique features like remote-wiping/restoring of a wallet to another device.
Personal crypto mobile wallets, such as Coinomi, have special features that keep your assets OFFLINE a majority of the time – along with many other innovative features. Both of these wallets can be downloaded to your mobile devices off app stores, for free.
Hardware wallets. like Ledger or Trezor are physical wallets that you must pay for. These can be used individually or they can be imported to a wallet that supports them.
Paper Wallets. like MyEtherWallet (MEW) are free to download and use. These can also be used individually or they can be imported to a wallet that supports them.
For an in-depth guide on paper-wallets, click the link below. https://blockgeeks.com/guides/paper-wallet-guide/
The specific wallets listed in this article are just a few of the options available to prevent you from losing your assets if a CEX gets hacked. These are wallets that I rely on. However, what suits one person the best will not always be the same for others. Invest the time to learn the differences to ensure that your assets will be as secure as possible.
Conclusion
Just because an exchange has an insurance fund for stolen assets, this by no means guarantees that all funds will be recovered. Additionally, the amount of time it takes to file claims and the time it could take to be reimbursed are two completely different scenarios.
In the past, it has taken some CEXs well over a year to reimburse customers, and some not at all – as several have filed for bankruptcy and were never heard from again.
There are several companies in the business of creating products to assist you with safely protecting your assets, check out Crypto Steel, or Cypher Safe to see what types of products are available. As always, find solutions that will be most beneficial to you, based on your own strengths and weaknesses.
The saying "not your keys, not your crypto" is so important that it bears repeating. If you have cryptocurrencies that are still sitting on a CEX, now is the time to transfer them to ensure you will not become a victim in the future.